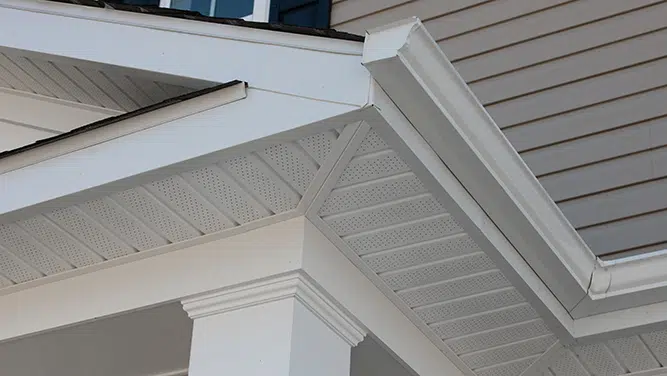 The soffit can refer to the horizontal underside of an archway, a staircase, or a ceiling, but it typically refers to an exposed surface beneath the hanging section of a roof eave. The fascia is a vertical finishing edge connected to the area where the gutter attaches to the roof, though it can also be found connected to the rafters or trusses.
These architectural elements found along the eave area do more than just add visual interest and give a finished look to your home. When properly installed by qualified craftsmen, they help protect the exterior of your house by keeping out pests like bats, birds and squirrels, and give you a way to disguise ventilation for your attic.
Elite Seamless Gutters has provided outstanding soffit/fascia repair and replacement throughout Northern and Central Illinois since 1999. We are dedicated to outstanding customer service and superior craftsmanship. If you would like to request a free, no-obligation soffit/fascia estimate contact us today.
How Your Soffit/Fascia Protects Your Home
---
The fascia's primary role is to act as a layer between the roof's edge and the outdoors, and it's meant to protect the wooden board from water damage. Covering wood fascia with a durable aluminum covering provides a superior alternative to painting. Fascia is an important element in your roof structure and soffits and deciding how to protect it is more important than just deciding which color to use. It completely covers the fascia board from the drip edge to the soffit.
You can count on a quality product, installed by a professional team of craftsmen. Your new soffit/fascia will come with a warranty so you will have the peace of mind knowing that we're going to be around to service your soffit/fascia if ever needed. If you would like to request a free, no-obligation estimate to repair or replace the soffit/fascia on your home or building contact us today.