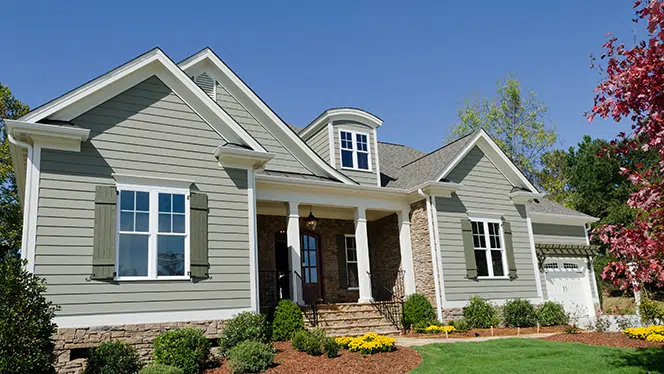 The siding on your home stands up to the elements 24 hours a day, 7 days a week. Over time, that can mean a lot of wear and tear—and sooner or later, it can result in siding damage. Signs it's time for siding replacement are: dry rot, warped or rotten areas, bubbling or cracking, holes, missing areas, faded siding, or increasing energy bills.
Siding plays a significant role in the efficiency, curb appeal, and value of your property. Deciding on the right siding for your property is a big decision. A durable siding will not only look great, but it will also provide lasting beauty and curb appeal. We can discuss many different siding options and educate you on the benefits of each material.
Elite Seamless Gutters has provided outstanding siding installations throughout Northern and Central Illinois since 1999. We are dedicated to outstanding customer service and superior craftsmanship. If you would like to request a free, no-obligation siding estimate contact us today.
Vinyl Siding Options
---
Vinyl siding is among the most popular siding that homeowners choose to have installed on their homes. Unlike wood siding, vinyl siding won't crack, peel, rot, or warp. It is versatile,  comes in a variety of sizes, shapes and colors, and it is one of the more budget-friendly materials to install. Our professional installers will make sure your siding is installed properly, so you can rest assured your home will look great!
You can count on a quality product, installed by a professional team of craftsmen. Your new siding will come with a warranty so you will have the peace of mind knowing that we're going to be around to service your siding if ever needed. If you would like to request a free, no-obligation estimate to install siding on your home or building contact us today.