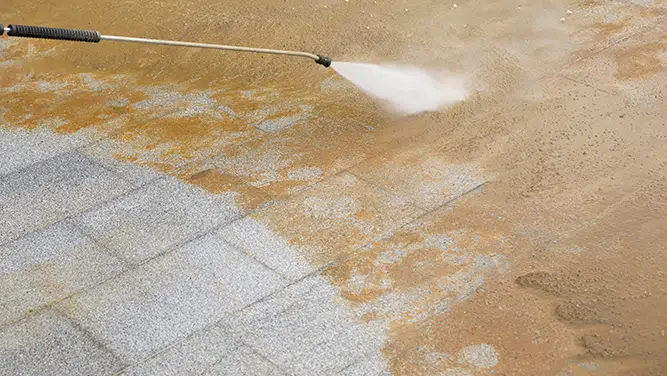 Pressure Washing services are one of the most cost-effective ways to maintain your largest investments. Dirt, grime, mildew, and algae build up over time and leave your home, driveway, sidewalks,  patios and decks unsightly. We offer house washing, driveway pressure washing, patio/deck/fence pressure washing, and commercial pressure washing packages.
Our pressure washing equipment is top-notch and we always use the right tools for the job. You can trust the experts at Elite Seamless Gutters are well-trained, friendly and will complete your project in a timely manner with minimal disruptions.
We have provided dependable pressure washing services throughout Northern and Central Illinois since 1999. If you would like to request a free, no-obligation pressure washing estimate contact us today.
House Washing
---
Dirty Siding? A low-pressure, high-intensity "soft" house washing service will maintain and restore your home's look. For most people, their home is one of their most valuable assets. Cleaning your siding will not only increase the curb appeal of your home but it will remove algae, mold and dirt from your siding, extending its lifespan.
House washing services are recommended every two years to keep built-up dirt and grime from burrowing into your property. Our house washing services are competitively priced and always performed by well-trained and friendly team members.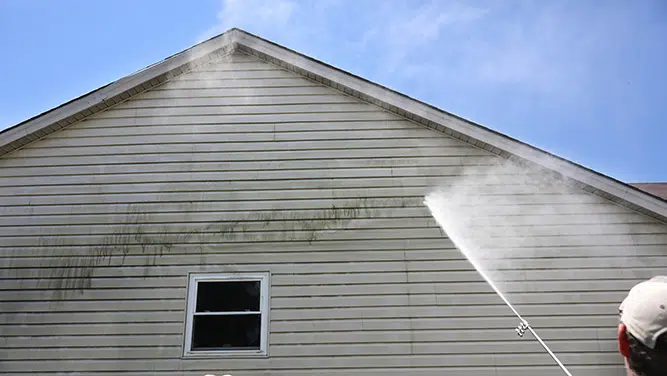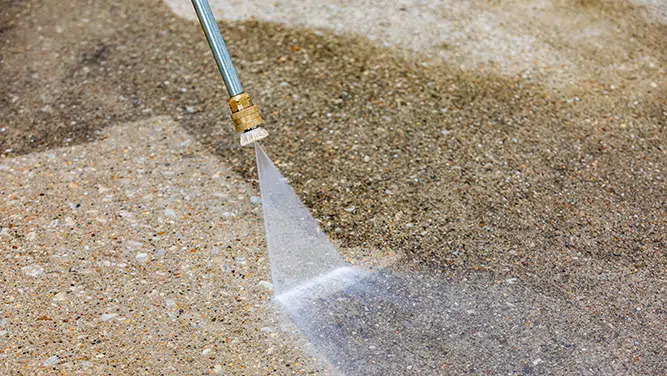 Driveway Pressure Washing
---
Power washing concrete removes built-up dirt and salt deposits from weathering. Even if your car is in great shape, it's going to leave a mess on your driveway. Oil, power steering fluid, and various other liquids can leak out and stain your driveway.
Aside from the typical car stains, many other things will mark your concrete.  Bird droppings, paint, and even normal wear and tear leave their mark. If your concrete looks like it needs a makeover, give us a call.
Patio, Deck and Fence Pressure Washing
---
Your fence, patio and deck are another outdoor area that you should keep clean. These areas can be ideal places for mold, mildew, and algae to grow. This growth makes the surface slippery. The slipperiness puts your family and guests at risk of falling and hurting themselves.
It is advisable to wash your fence often to maximize its lifespan. Here it's not so much the dirt that's problematic. Instead, it's the algae and fungus that might eat away the structure if not dealt with decisively.
If you've got a wooden fence, weathering will make the wood dry out. Weathering turns wood grey and makes it more brittle. Regular power washing can solve this problem.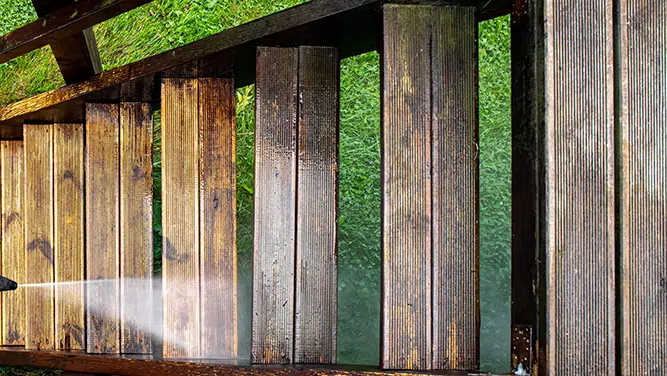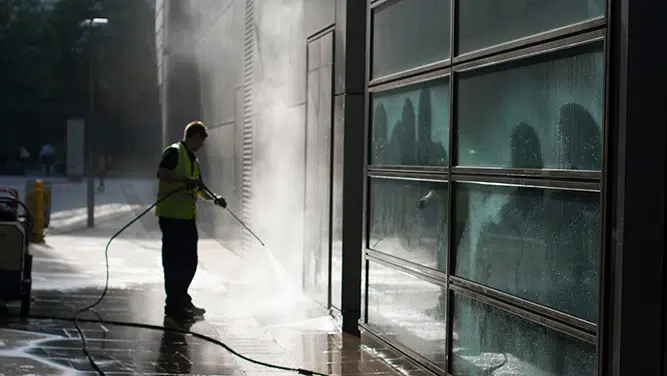 Commercial Pressure Washing
---
The cleanliness and safety of your commercial building exterior will guide your client's first impression. It's not unusual for high-traffic businesses to have  hundreds of customers a day. That amount of traffic also means hundreds or even thousands of cars and their oil, grease, and antifreeze can build up over time. This buildup creates a huge liability for your company – not to mention an unhealthy and unclean look to your location.
Contact us for your commercial property pressure washing – siding, brick, masonry, asphalt, metal, and rubber roofs and concrete cleaning. We use professional-grade detergents and hot water to thoroughly clean and brighten concrete, brick, signs, fleets, heavy machinery and more to a level that only a  professional Hotsy pressure washer can achieve.