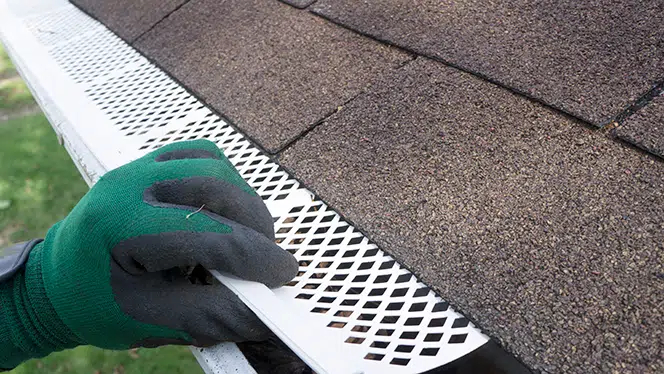 Our gutter guard systems are designed to allow water to flow freely while debris is lifted away from gutters. They mount directly to the front and rear of your gutter to strengthen the gutter guard system in place and eliminate the need to disturb your shingles.
Quality you can trust starts with a promise we can stand behind. When your gutter guards are installed properly, you will never have another gutter or downspout clog.  We're confident in the construction of every product we sell, and we guarantee that your gutter will remain clog-free.
Elite Seamless Gutters has provided outstanding gutter guard systems throughout Northern and Central Illinois since 1999. We are dedicated to outstanding customer service and superior craftsmanship. If you would like to request a free, no-obligation gutter guard estimate contact us today.
How Gutter Guards Protect Your Home
---
Gutters are an essential part of your home that helps to protect it from water damage. When they're dirty or damaged, the results can be devastating! Cleaning out gutters is time-consuming causing most people to delay this chore until it's too late – they simply don't have enough energy left in their day for everything else going on in their lives. Our Gutter Guards eliminate that need and help protect your home for years to come.
Clogged and damaged gutters can do a lot of harm to your home. The simplest and most effective way to protect your home from clogged gutters is to install gutter guards.  It is designed to keep birds and other animals out, so your gutters stay nest free. Our strong aluminum construction can weather even the strongest storms. The gutter guard is virtually invisible from the ground. We provide and install gutter guards for 5" and 6"  gutters.
If you would like to request a free, no-obligation estimate to install seamless gutters on your home or building contact us today.